Today is February 27, the fourth day since my grandma passed away. I know I need time to heal the pain in my heart. This blog is about my grandma. And my grandma is one of the most influential people in my life.

I had thought I was prepared to lose her as she was in her nineties, but it still hit me so hard when the day came, and I cannot bear the fact that my grandma is not in the same world with me anymore. I know I have to accept the truth eventually. But I am not there yet. I messaged her on Wechat after she passed away.

I said, "Grandma, are you there? Did I have a nightmare about losing you?" I know my grandma usually doesn't reply to me right away due to the time difference. She does not check her messages every day. Then I waited and waited. I messaged her again on Wechat. I had been hoping she would reply to me or give me an emoji. But I guess it won't happen again. Unless at this moment, I am still living in my bad long dream and haven't been awake. Maybe I am in a coma and going through a long and dark dream? I hope so.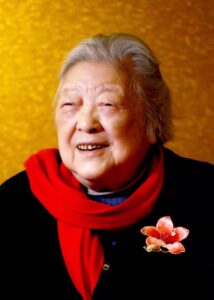 My grandma went into a coma on February 15, just the night before her 94th birthday. Although my aunts all expressed no optimism about her coma, I felt confident in her. My grandma started to prepare her last will since she was 83 years old, ten years ago. She was in the hospital several times, and every time she retrieved from the edge of danger and was all right again. I thought my grandma would surprise me every time, including this time. We agreed that I would visit her also this summer. She had promised that she would wait for me.

I visited her every summer in Changsha, China, since I started to live in Vancouver. That's just a permanent and sweet appointment between a grandma and her granddaughter every year. In 2020, I visited her in October. She was in the hospital. I heard from my aunts that my grandma cried after I left. She thought it would be the last time she saw me. However, I didn't think so. Every year, my grandma thought that it would be the last time to see me. But next year, I revisited her. I had been quite confident that I could see her again in 2021 in the summer. I thought my grandma could at least live to 100 years old. I had missed her 90th birthday party, but I told her I wouldn't miss her 100th birthday. However, she passed away before her 94th birthday.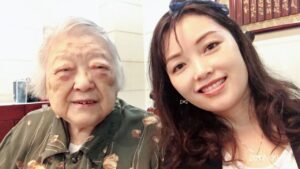 In the last several days, I have buried myself into a deep mourning and missing of my grandma. My grandma is back in my memory.

When I was a child, I had three grandmas. One grandma was my mom's mother; another grandma was the step-grandma as my grandpa divorced my grandma, so I have a third grandma. The grandma I loved most and got influenced most by is this grandma, who's my dad's mom. To distinguish her, I always called her Changsha Grandma when I was a child, as she lived in a city called Changsha, in Southern China. I stayed in a small city with my parents 1000 km away from her.

My dad was raised in Changsha when he was young. I know he missed Changsha very much as he always talked with my brother and me about Changsha when we were children. My dad lived in a university called Changsha Science and Technology University, with my grandma and his siblings since he was a child. My grandpa was the principal, and my grandma was the professor who taught Philosophy and Economics. They got divorced when my grandma was 37 years old back in 1964. They have seven children, and they are my four aunts, two uncles, and my father.

My grandma kept all the children, and she became a single mom with seven children. The oldest was 15 years old, and the youngest was 7 years old.

In China, it's said there are four great pangs of sadness in one's life. The four are: lose your mom when you are a child, lose your father when you are a child, lose your husband at mid-age, lose your children when you are old. Then my grandma had all four of them.

My grandma's life wasn't easy, and she lost her dad at 7 years old. Soon after she lost her mom. She was the only child in her family. She moved in with her uncle after she lost her parents; She got divorced from her husband at 37 years old; She lost her youngest son when she was 76 years old and the second youngest son when she was 86 years old. According to the Chinese saying, my grandma experienced all four great pangs of sadness in her life.

However, my grandma was very resilient and optimistic. She never let anything get her down. She used her only salary to raise her seven children. Although the pay was far from enough, she was brilliant at managing and arranging everyday life. She arranged their meals just perfectly so every child could have mixed and balanced nutrition every day. I heard my dad say that every week one day they had fish, one day pork, and one day egg, and some weekends they had dumplings. I cannot imagine how my grandma could do that with a limited amount of money. Every child had clean clothes to wear for school. She could even sew and make clothes or knit sweaters for her children. Due to her careful management, every child could have enough nutrition and enough clothing.

My grandma was so smart, and she was very good at knitting and sewing. She was a great teacher at the university. My grandma knitted all my beautiful sweaters when I was a child. My mom's friends always asked my mom, where did I get all the lovely sweaters and where could they buy them? My mom had to tell them. "You cannot buy them anywhere," as they were all from my grandma. I remember I had a yellow sweater with a brown giraffe eating grass. I had a blue sweater with several fishes swimming. I had an adorable sweater; on the back was a little girl's back who was climbing up a red and white brick wall, that little girl had a ponytail; on the front, the little girl's half-face showed up from the wall. The best thing was that every grandson had a sweater like that but with a slightly different hairstyle, depending on the child's hairstyle. For example, I had a ponytail. So I also had a ponytail on my sweater. My brother had his short hair on his sweater. One day we siblings and cousins all wore our similar sweaters, and we walked on the street as a team. Imagine seven children were wearing the same type of sweater knitted by grandma but with slightly different hairstyles. All the street people turned around and looked at us with amazing expressions. Those sweaters were designed and knitted by my grandma. We proudly wore them, and they later became our family sweater. All the grandchildren had one.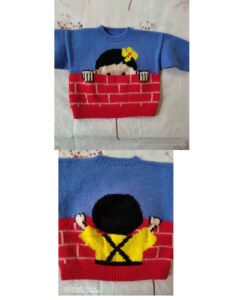 Talking about knitting sweaters, my grandma told me that she knitted for four generations. She knitted for her uncle when she was young. She knitted for her children as a mom. She knitted for her grandchildren as a grandma. She knitted for her great-grandchildren as a great-grandma. How lucky we were to have such a smart and creative grandma. She even knitted ten sweaters for my son in her late seventies, eighties, and even in her early nineties!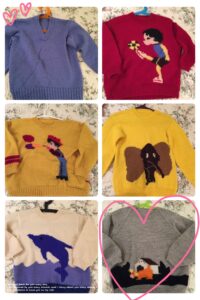 When I was a child, my parents took my brother and me to Changsha to visit her during the summer breaks. We took a train. At that time, the transportation was slow. It took us more than one day to go to Changsha. My dad took us to Shanghai by bus. We stayed in Shanghai usually for 1 day or 2 days and then took a train to Changsha. That train usually took 16+ hours. But that was my happiest memory as a child. I always counted down how many days were left for me to see my grandma. I always enjoyed my stay with my grandma in the summer. That was a lot of great memories.

My grandma wrote us often, so every time I came home from school, my dad would smile at us and say grandma had written to us. I would get excited and jump and could not wait to read it.
My grandma always mailed us all kinds of packages, and sometimes they were snacks, sometimes they were sweaters, sometimes they were toys and books. Each time when I heard from her, it was just like a holiday to me.

After high school, I got admitted to the university where my grandma stayed. Then I moved to Changsha and lived with her for four years. My grandma read lots of autobiographies, so she has also impacted me. I love reading autobiographies. I remember my grandma played croquet with her retired peers in the afternoon, and she was so energetic and young in my eyes, although she was already in her late seventies.

After graduation, I moved to another city, Guangzhou. I could always visit her as Guangzhou is only 560kms from Changsha, and I traveled to Changsha from time to time. My grandma knew I like to have chicken soup, Deyuan Buns, and stewed fish. She always prepared them for me when she knew I was going to visit her.

Time flies. I came to Vancouver and started to live here permanently in 2010. In the beginning, I was the only person who came here. My son and husband stayed in Guangzhou. I was not a brave woman, and I was scared by myself at night, so I called my grandma a few times every week.

One night, I told her I was afraid to stay by myself alone in an empty house. My grandma tried to comfort me: "What are you afraid of? If you are afraid of a ghost, I can assure you that I haven't seen a ghost in my 80+ years, so there are no ghosts. If you are afraid of bad guys, lock your door, and Canada is safe, and you are safe." I felt much better after speaking with her that night.

My grandma was a brave woman, and she overcame so many difficulties in her life. She had a couple of operations in her life. When she was 87 years old, she broke her thigh due to slipping on the floor accidentally.

All the doctors dared not operate on her as she had several chronic diseases in her kidneys, her heart, and she had blood pressure. The doctors were concerned she could die in the operating room as she was a high-risk old lady with lots of health issues.

However, my grandma told them not to worry and to build a plan and do the operation. She said it wouldn't be their fault if she could not survive the process. I heard from my aunt that she even chatted with the doctors during the operation to make them feel less stressed. And the operation turned out to be very successful.

After the surgery, I called my grandma and cried on the phone. My grandma said: "Don't you worry, Yi Zi (my nickname). It's not that painful. I am recovering, and soon I will walk again." But my aunts told me it was painful for her. My grandma got her thigh replaced by a steel bone. How can that be easy for an 87-year-old lady?

On the other hand, my grandma was quite open-minded. I remember the Chinese New Year's first day. I went out to a nearby park with my cousins after breakfast. However, we found the park was closed that day due to the holiday. We just walked and walked, then found there was a graveyard nearby. We then decided to go to the graveyard to check out what was fun there. However, after a round of touring, we didn't find anything fun. Then we went home.

My grandma was playing mahjong, a Chinese family board game, with my aunts. She asked us, "Where did you go for fun, kiddo?". We said the park was closed, so we went to the graveyard. My grandma laughed at us: "What's fun there? You cannot see anything there. There are all dead people." She continued playing MaJiang without saying anything, or being angry.
However, my mom got furious when I told her I visited the graveyard. She thought it would bring bad luck since I saw that place on the first day of the Chinese New Year. I know most Chinese people would believe we brought back luck on the first day of the new year.
However, that was my grandma. She never believed any superstitious story. She believed in herself. She was open to us to try anything as long as it was not dangerous.

My grandma was creative, and she loved new-fashioned stuff. I have told my friends about a typical day for my grandma.

After breakfast, she would read the newspaper online on her computer. Then she played online games in the games room. She had a nickname; we all don't know what that was. She must have felt great by acting like a younger person in a game center. Then she would do knitting or make handmade accessories, such as a bunch of flowers made of cloth or a toy made of beads. Most of the time, she did knitting. She had so many people to knit for, and people needed to line up to get a piece of knitting from her. She was a knitting master!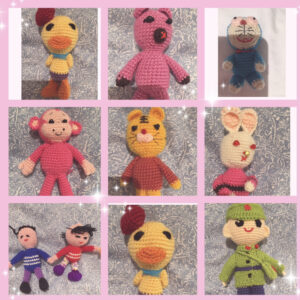 She was the most-welcomed patient when she stayed in the hospital. As she would keep knitting when she was in hospital, all the nurses could eventually get some cute knitted animal from her.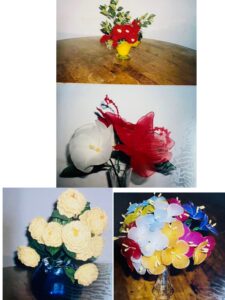 My grandma knew I would make new friends in Vancouver, so I got a priority VIP seat and got knitted stuff from her every summer I visited her. Every time, she secretly took out a basket of handmade items and gave them to me when no one else was around. She always saved the best for me! She asked me to give them to my new good friends in Vancouver. So a few of my good friends have handmade stuff from my grandma.

For recent birthdays, we needed to think hard to give my grandma a surprise gift. I asked my grandma, "What kind of gift do you want?" As I know, after a life's struggle, her life got better in the second half. She had become quite comfortable financially and could buy anything she wanted. My grandma told me the best gift for her was something modernist or high technology. Then I started to purchase some electronics such as digital frames, Mp4s, and later tablets for her.

After she passed away, I checked all the conversations with her in the recent five years on WeChat. My grandma used Wechat in a more advanced way than my mom. She sent me emojis from time to time and chatted with me back and forth.

In 2017, I shared her post and told my grandma I graduated from MBA and sent her a few photos. My grandma said:" Great job, my good granddaughter. Keep going. I am so proud of you. Your life is not easy as you need to work and raise a kid in another country with no one's help. Be strong but also take care of yourself."

My grandma was not just my dear grandma; she also understood me and knew me as a friend. I don't know how to face the summer without expecting to see her. But I have all the great memories, my love for my grandma, and I will miss her. I will see her in heaven years later and have a reunion with her.