When I was a child, around 4 or 5 years old, I liked to sing. I loved to sing in front of a group or audience, or even on stage in a movie theatre. I guess I had been super confident about my singing at that time.

My parents told me that I liked to run to the stage and sing to the audience who was waiting for the movie to begin in a movie theatre. Although I was little, I acted like a professional singer. I bowed to the audience, and then I started to sing; then I bowed again to them and returned to my seat.

I also liked to sing on a train to many women that I met for the first time, when my parents and I were on our way to visit my grandma, who was in another province, 1100 kilometers away. My dream at that time was to be a famous singer after growing up.

However, I am not a singer now, and that dream was dropped at a certain time. I don't even remember when and why I dropped my dream.

My dad later told me I hadn't sung that much since someone joked with me that I didn't sing that well. Then I stopped singing in front of people. That joke changed my childhood dream a lot, although it was just a careless joke.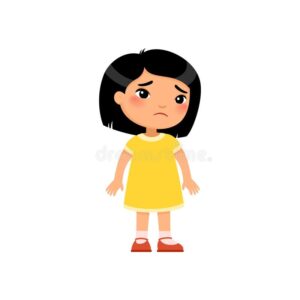 Sometimes we don't recognize discouragement, even if it comes from a joke that can hurt a child that much.

However, discouragement does not hurt me so much as a grown-up. I think it's because I know myself better.

A few other discouragements in recent years:

When I came to Vancouver as an immigrant, I met with a few recruiting agencies. 99% of them recommended that I consider moving away from marketing. Their concern was that I was not familiar with North American culture, and I carried a strong Asian accent. In fact, I still carry that now, lol. I have been working in the marketing field for ten years now for Canadian and American companies.

Several of my friends tried to persuade me not to take an MBA course in Vancouver since I did not grow up here, and English is my second language. They warned me that it is not easy to get a master's degree in another country in a second language, as a new immigrant. However, I got my master's degree and graduated in 2017.

I am glad that discouragement had much less impact on me. I acknowledge that discouragement sometimes still makes me feel hesitant about my decisions.

Another new discouragement came last month, the last month of 2020. That discouragement has made me write this blog as I wanted to write about some big discouragements I received in my life and see how I dealt with them. I hope I can inspire you, who are reading this blog, that discouragements should not impact you. You should know yourself better.

Two years ago, I decided to learn to play the piano. Several people joked with me, including my son, husband, and BFF. My son was doubtful how long I would last learning the piano. He thought I would give up after a few weeks or months. My husband thought my piano practice was not as beautiful as I was repeatedly practicing "Jingle Bells" after dinner. He really couldn't understand why I practiced that over and over again beside him. My BFF joked that I played the piano keys, but not a piece of music when I proudly performed a new piano piece I just learned to her.

Well, that's not all the discouragement I received about my piano learning. I will tell you more.

As I mentioned, the only music-related experience I had was singing when I was 4-5 years old. I stopped singing after I got discouraged. I don't have a solid foundation in music.

But that doesn't prevent me from learning the piano, as I find real pleasure in the music. I am even more proud that I can enjoy some music that I play. Playing the piano has become relaxation for me, a place to escape when I feel exhausted from my busy job or life. I can temporarily forget everything else and get lost in the music.

My son, John passed the level 10 RCM piano exam last year. I had accompanied him on the piano learning path. He has been learning piano since grade 1, and he reached RCM 10 at grade 10. I am proud that he has the skill to play very well, and he is still enjoying playing it from time to time. Recently, he has been playing Beethoven's No.8. I joked that although I am his mom, John is like an undergraduate student, and I am still in the daycare center in terms of piano learning.

However, the purpose for me is to learn the piano, not to gain new intensive skills. It's a great new hobby in my busy life. I know my piano playing is relatively entry-level and far from perfect. Nevertheless, I still feel proud when I can play some complicated pieces such as "Mariage d'amour "and "Romeo and Juliet", advancing from "Jingle Bells" 1.5 years ago.

One day I posted my 1 minute piano recording on WeChat. An acquaintance of mine commented on my post that she thought my piano playing was quite bad. My finger gesture was even not right. She left lots of comments under my post. She even said one should not consider learning piano if that person doesn't have the talent. Music needs talent.

I felt terrible that day. The feeling of being discouraged as a little singer came back to me. I don't have any musical talent. Why did I try to play the piano and still have the courage to share my imperfect piece with my friends?

Guess what happened later? The next day, I realized that other people shouldn't influence my life, including my hobbies. It was not a bad hobby, anyway.

In my life, there were moments that I received discouragements from all directions. However, I am glad that those jokes and comments don't work on me now.
My Asian accent doesn't make it any barrier to communicating with my marketing colleagues, the executive team, or even clients. My communication is clear and to the point; I graduated from my MBA School and got lots of A's in the second half of the study. (I got lots of B's in the first half because of my low English comprehension level, then I worked hard on my English and improved a lot in the second half of school); I still continue my piano learning, although I am still a toddler and don't walk well. Although I sometimes make mistakes and the pieces are far from perfect, my piano learning is an enjoyable hobby. I should keep doing that. No matter what others' comments are.

It's not worth giving up something because of someone who doesn't even know me well.

Don't get discouraged.