There are only a few last days in 2020, and, for the first time, I am counting down to a brand new year.

2020 has been the year of the pandemic, "COVID-19", which started in Dec 2019, and has been with us almost throughout the year worldwide.

I remember SARS back in 2003; in my memory, we stayed at home only for a few days, and everyone went back to everyday life after that. But this year, since March 17, we started to work from home due to the pandemic, and we are still working from home today, which is 40 weeks later. Our "normal" life has been drastically changed, and we have formed a new norm.

Here are my new norms: Wearing a mask has become normal whenever staying in a public place; ordering groceries online has become a new norm; keeping the 6 feet distance from people has become a new norm, I have unconsciously stood apart from people in public areas; staying at home and consuming more in-room activities has become a new norm, I know a few online fitness platforms have been well received after the pandemic started.

Today, there are 80+ million people diagnosed with COVID-19 in the world, and 1.7+ million people died from this disease. Lots of people lost their family, friends in this pandemic. It's a dark year for those who went through this. It's also a year making us reflect and rethink the old "norm" in our lives. Here are my reflections, and I want to goodbye to 2020.

Many things can be done online; buying groceries was one of my major tasks on the weekend. I would need to spend a few hours visiting a few grocery stores on the weekend. Parking was a big headache for me as most people do grocery shopping at the same time. Lining up for a parking spot, lining up for checking out, and driving to different places for different groceries had become my routine for a few years as a working mom.
Now, I can do almost all my shopping online. I can get all the fresh foods brought to the door without leaving my home. Online grocery shopping has saved a few hours for me every week. It is not surprising that according to online statistics, online grocery shopping and food orders have become two of the fastest-growing businesses during the pandemic. According to the survey, COVID-19 has changed online shopping forever. After the pandemic, I am not even considering going back to store shopping as frequently as I did before.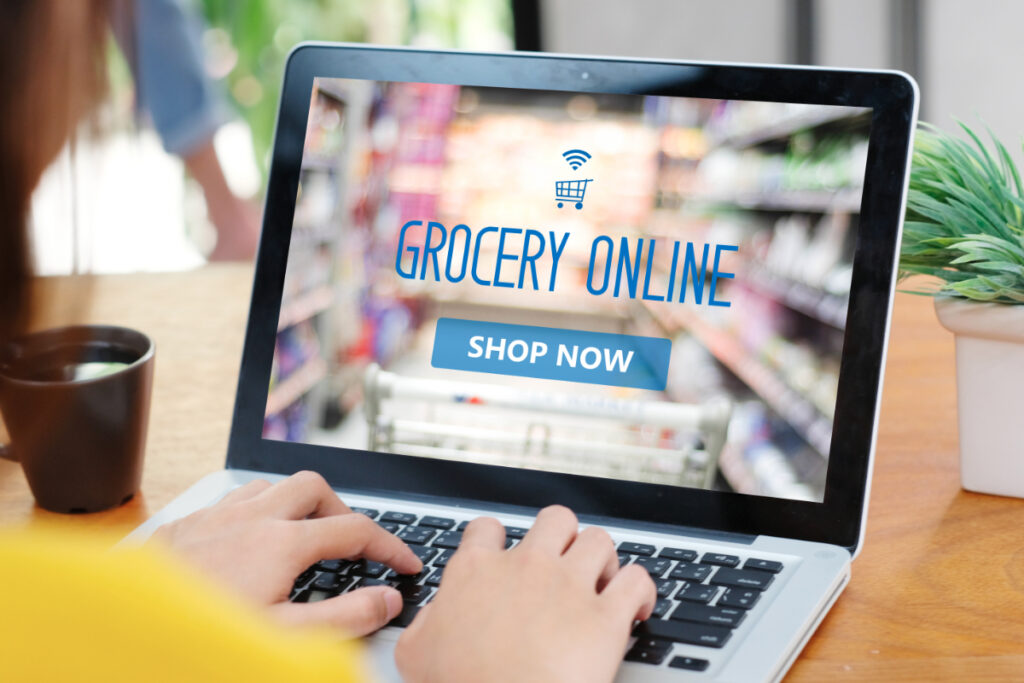 Remote work is totally fine – I have been working from home since March and continued doing so even when I went back to China in late September for a couple of weeks. Everything was working as usual, with no impact at all. As long as the internet is connected, people especially those whose job does not require face to face in-person interaction, can work remotely and work online.
According to the online statistics, 27 companies such as Adobe, Amazon, Facebook, Gartner, Microsoft, Salesforce, etc now have permanent remote positions. By offering this option, they can attract and retain talent better.

My friend even sold a few houses in the U.S. on WeChat (a Chinese social media platform) to overseas clients. Those clients never came to the States to see the actual properties but saw them via the virtual open house.

We need partners or friends to get through this together. Since March, I have had my fitness pal. We have five fitness dances every week. 7:30 pm has been my blocked time for fitness dance every weekday. Although we dance at separate homes, what we need is a pal, who is on the other side, to have the time commitment to fitness dance at the same time as you.
I also have the book club pals. We have had the same commitment to read a book since August. We don't need to stay alone if we can have friends and partners to go through this.
Good hobbies are great ingredients in our lives. During one Zoom meeting, we shared our hobbies with each other. I noticed that people who have several good hobbies stay quite positive in the pandemic. One of the friends said she loves reading, dining, playing the piano, and dancing. I can feel her positive energy, and she always wears a smile on her face.
Since I started to learn the piano 2 years ago, playing the piano has become one of my hobbies. I can devote my emotions to playing, so playing the piano has become one way to release my emotion. Human beings have emotions, and accumulated emotions need to be released somewhere to get out of your body. Different people have different ways, some people via working hard, some people do exercises, some people do it by saying 'I love you', or giving a hug, some people do some actual actions such as baking. I can reset mine via several of my hobbies, playing piano, cooking, writing my blog, exercises, talking with my friends, etc. Good hobbies can help us to recognize and respond to our emotions.

Health is the most important fundamental thing you should have and care for in the first place. Lots of people said they ignored their health until they lost it. This year, lots of people send "be healthy and be safe" to their loved ones.
I remember I read a book by a Chinese author Juan Yu, "An unfinished life". She wrote this book after she was diagnosed with breast cancer. There's one specific scene I cannot forget. She said she would do anything possible just to be alive so she could see her two-year-old son playing in the playground. She still passed away at the age of 32 after fighting against breast cancer for 2 years. How can she see her son playing if she lost her health and her life?

Some businesses spiked, and some businesses dropped to the bottom in such a big change. Some online businesses, such as online grocery shopping, online food ordering, online shopping such as Amazon, video conferencing providers such as Zoom, captured the pandemic pulse and contributed to a new norm in people's lives.
There is a saying in Chinese, "There are always heroes in difficult times. " At this time, some online service providers or online platforms have become heroes. Most people now use "Zoom" for video conferencing, although there are so many video conference providers, such as Google meet, Webex, Team meeting, go-to-meeting, Skype. I had been using Webex 10 + years ago when I worked at Cisco. The video conferencing providers did not realize consumers' needs for video conferencing with multiple users spiking because of the COVID-19. Zoom definitely is a winner among all the video conferencing providers.
People cannot leave their homes and cannot visit their families or friends. They have to switch their social life online. I have already had five Zoom meetings since Christmas. My son had his Zoom birthday party via Zoom earlier this year. Zoom definitely is a newborn hero in this challenging time.

On the other side, I know many traditional businesses went bankrupt or cut down on their staff significantly during the pandemic. Lots of airline companies squeezed their staff out during the pandemic or even went bankrupt. According to CNBC.com, more than 40 airlines have failed so far this year

Remote relationships via video conferencing can never replace in-person interactions. I have had audio calls or video conferences with my parents throughout this year. However, I spent five days with my parents when I went back to China during the pandemic, those five days became one of my happiest family times in 2020.
When I was in China, I accompanied my mom to do some shopping. My mom proudly had her arm in mine and introduced me when we run into her new friends. "This is my daughter". I could clearly see her pride and smile on her face. I wish I could do more shopping with my mom together.

My good friend lost her father earlier this year. She asked me in tears, why our loved ones only live on the mobile screen but not beside us in our lives. She has done video conferencing with her mom and dad throughout the years since she immigrated to Canada. But since this February, her dad can never come back either on video conferencing or in life.

It made me stuck in my thoughts for a while. Why our loved ones only appear on the mobile screen but not beside us?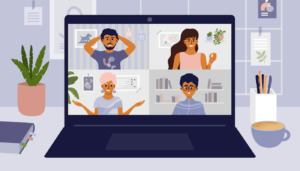 As immigrants, we are so far from our families. Even many couples are apart most of the time, and children are away from their dads. I know lots of Chinese immigrants are like that.

Video conferencing makes people's lives easier, and it makes the long-distance like face to face, sadly, video conferencing can never replace the human touch.
I miss the time I walked in the street with my mom and dad on our way to visit my grandma, who has been in hospital since last year. My grandma asked me to sit by her bedside, so she could touch me and feel me. I hugged her before leaving, and I saw her tears before leaving. She knows she can only have me visiting her once a year, I have to call her for the rest of the year. How can that human touch be replaced by video conferencing? It won't ever.

I have been listening to the audiobook "Dream of the Red Chamber" – one of the big four books in China. A young lady was sent to the emperor at the age of 13-14 years old, and she had a chance to visit her family a few years later. She was polite to the whole family, but she released her love when she hugged her beloved little brother BaoYu. I cannot agree more that people need the body touch or in-person get together to express the emotion and feel each other.

Lastly, although I did not hit the goal this year, I only read seven books out of 12 as my goal and wrote eight blogs out of 12, I am so thankful that my friends and family are safe and healthy this 2020. I believe 2021 is going to be a much better year for all of us. As long as we stay safe and healthy, there are goals to be finished continuously.

Goodbye to 2020. To a better 2021!