Right now, we are experiencing a once in a lifetime worldwide crisis- the COVID-19 virus. Since the end of 2019, the global virus started spreading, and the map looks like this: It started in Wuhan, China, and the first case was published on Dec 31, 2019. The first case outside of China occurred in Thailand on Jan 13; the first outbreak happened on Diamond Princess Cruise Ship on Feb 4, and then the first case in the US was reported on Feb 26.
In 3 months and three days, the number of cases jumped from one to today's one million, and the number is still increasing every minute, lots of heartbreaks. Now people are calling it our generation's World War III, as we are fighting against a universal invisible but dangerous enemy – the Coronavirus.
When the first case got reported, I saw my friends in China started to tweet and share news about the virus. My feed became quite crowded as the situation spread fast in China. It was sad to see the virus hit people so heavily, and the cases far beyond control.
In the beginning, it seemed like it was an epidemic crisis as it started to spread in China and, soon, due to globalization and mobilization, the virus began to spread across the globe, and today, we are in a pandemic situation.
Recently, when I opened my social media feed, all kinds of news started pouring out. The amount of information in today's internet era is overwhelming. The news flooded in; it poured onto my screen. Lots of media are adding fuel to this event like a wildfire, and lots of frightening news makes people even more worried.
I would like to use a quote from one of my favorite bloggers James Clear, who shares 3 ideas and 2 quotes every week. He said, "In a world where information is abundant and easy to access, the real advantage is knowing where to focus."
When my dad was young, in his very early twenties, in the mid of 1970s, he was hungry for knowledge, and he was very interested in learning electronics. However, he could not find the information easily, as the only way he could get it was from books. There were not a lot of books available about electronics on the market. One day he borrowed a book from his friend, and he was able to keep it for 30 days.
When I was at school, information became much more available. I usually went to the library after school: it was a building with six floors, all full of books. I was overwhelmed by the number of books in the library, and I was wondering how many books had or hadn't been read. But to find a book was not always easy; I needed to search for the book, and if others had borrowed the book, I needed to wait.
But nowadays, lots of information we obtain is from the internet. When I was at graduate school 4 years ago, most materials were on the school's intranet. The copies were limitless, and we didn't need to wait for something to be printed or copied: almost everything became an e-version.
Today, we have gotten used to this scenario. When I sit in front of my computer and turn it on, limitless information will appear under my fingertips. We never need to wait for one day to read the news in the newspaper. Lots of communication is almost instant due to the ease of creating and publishing a piece of news.
The issue we are facing now is, there's too much information, including false information, wrong information, useless information, with valuable and useful information mixed in the crowded virtual internet world. Some people are even joking that our IQ seems to get interrupted by rumors or misleading info from the internet. There was one piece of information that appeared on the internet, so one-day people crazily stocked up on toilet paper. My friend told me she saw people buying whole trunks of toilet paper from Costco.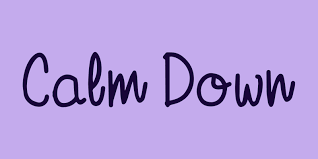 I have told John that the internet makes it very easy for people to get tons of information, either it is about learning, or knowledge, or entertainment. Today iBuyers can even buy houses online—most of the things related to our daily lives that can be done on the internet. Video conferencing is so prevalent today, Google Hangout and Zoom are the two biggest winners so far in the first three months in 2020, due to the high demand for virtual collaboration. I ordered grocery delivery online during the quarantine. My son's school opened, after spring break, in his virtual classroom. Both myself and my husband are working online.
On the other side, the screen can quickly grab our time and attention more than ever. But where to put our focus on when the internet brings excessive information during this crisis?
I have some tips for you, and I hope the tips can help you reduce anxiety and maintain a healthy mind and body during the pandemic situation:
Read news only once or twice a day. I know some friends who spend a few hours reading the news. The more they read, the more stressed they become; As I mentioned, there are all kinds of information: some information can be misleading, some info is exaggerated. I would suggest reading news on a reliable channel, which publishes news responsibly;
Set limits to reading time, such as 30 minutes to 45 minutes. As I mentioned, people's attention and focus is lost if we do not set a limit;
Stay socially active – people staying at home and may feel quite isolated. We all need friends and connections. I have been keeping interacting, sharing, and chatting with my several good friends every day; we share the food we made, the information we read via social media, or video conferencing. I continuously talk with my mentor every week. I call my parents to check-in. We all feel we are more connected than ever, and we are all going through this together, not alone.
Stay physically active – in the last three weeks since we started to work from home. I have started to do fitness dance by following a video on Youtube. Very soon, I had a friend who likes to join me as well. Every evening 7:30 is our fitness dance, and we remind each other to get changed and get prepared.
Find peace in your way – it's very easy to get anxious when we find the situation is beyond our ability. I started to read the "Purpose driven life" with my Bible study group, and I got so inspired by it. Not only am I a Christian, but also I can rely on the Holy Spirit. I can find peace from reading the book. People find meditation or yoga is also helpful.
Explore your hobby – since I started to learn piano 1.5 years ago, playing music started to be one of my hobbies. Today I even find it a great way to release stress. It's an excellent way for me to forget other things for 30 minutes every day when I am focused on playing the piano. It is a beautiful acitivy and playing is a good therapy for my body, mind and soul. There are lots of things that can help, and some people enjoy cooking, singing, exercise, reading, gardening, hiking, etc. There are lots of things are awiting for your to explore.
Be positive and have fun -always have a positive mindset, especially during a difficult time. Good things are also happening during this crisis. I didn't stay so close to my family before. I am now sharing one room with John every day. He has an online class, and I work from home and stay online; As we reduced the time spent on the road, actually I saved at least 1 hour on the commute every day. Think about ways to leverage the extra hour, such as reading more, exercising more, or doing more. From the global standpoint of view, due to significantly reduced time using cars and much less travel, by air, road, train, and sea, global warming has slowed down. The globe has become greener.
Leverage the extra time and plan it well. Think about how to leverage a quieter time and spare time. Maybe it's time to take a new online course, learn a new skill, or it's time to learn baking – I am quite bad at baking! Or maybe I can watch the several movies that have been on my list but haven't had a chance to watch.
Take care of yourself first – in the first several days I was a bit anxious as I could not do what I used to do, the fitness club was closed, the office was closed, and we turned to work remotely, the school was closed. I was aware of my emotions, and I started to care about myself more. Pick movies to watch, have a home spa, and register for an online fitness class. We should always take care of ourselves; then we can take care of our family and society.

Seek help if your stress level goes up

– we all have resources that we can seek advice and support from. Do remember to reach out to them when needed, and not keep to yourself. Lots of people may have the same feeling as you.

Be thankful for what we have today -have a gratitude attitude and count what we have today, but not what we don't have today.
I do hope this crisis can end soon, and everyone can go back to their normal life and mundane things. We also need to adjust ourselves to the new environment and enjoy it as much as we can.
---
List of resources to do at home, I will update when I got new ones:
Fitness https://www.onepeloton.ca/ (90 days free) ;Obé Fitness www.obefitness.com
Virtual Disney World
Udemy Online learning
On-demand movie Netflix, Crave, Amazon Prime
Online music Spotify
Broadway Online Shows
Meditation Calm 
Online Music to help you to stay Focus