The Pursuit of Happiness
Last weekend I watched an old movie "The Pursuit of Happyness" 2006, American biographical drama, with my son. The first time I watched it was two years ago, but I decided to watch it again with my son. I feel for the generation who are born after 2000 and whose life is filled with electronics, games and online videos; some of the young people's happiness relies highly on those tools. That's why I want to motivate my son to think about his happiness and what happiness means to him. I also want him to understand that people have different things to make them happy, so he can understand others.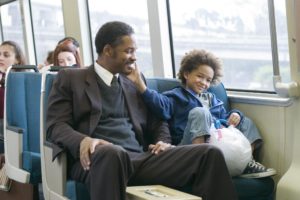 Different people have different definitions of happiness. But what is happiness? What's your definition of happiness?
"Research in the field of positive psychology and happiness often define a happy person as someone who experiences frequent positive emotions, such as joy, interest, and pride, and infrequent (though not absent) negative emotions, such as sadness, anxiety and anger (Lyubomirsky et al., 2005). Happiness has also been said to relate to life satisfaction, appreciation of life, moments of pleasure, but overall it has to do with the positive experience of emotions (source here)"
Then I want to understand better what my son's happiness is? His answers are: having gaming time; having a family vacation; playing with friends in the park; reading his favorite cartoon books; watching a movie with friends; going skiing; eating those snacks that I usually do not allow such as chips or coke; and getting an award from school or competition.
So, the next question to think about is what is my happiness is? Now that I am writing my ideas down, I realize that there are so many things that can make me happy. Here are some of them:
The happiness of my family:
It is the time to have a great family vacation; it is time to have a heartful & pleasant conversation with my loved ones; it is a fulfilling time to watch a movie with my son with the sharing of popcorn; it is a moment when I feel proud of my son or in everyday life when I see my son's happy face after work; it is a dinner time with my parents or accompanying my parents to go shopping whether at a bookstore or a shopping mall; it is a time when I cook the dinner, and my family loves it.
The happiness of enjoyment and relaxing:
It is having a break after feeling tired; having a relaxing spa or massage; it is the time I have a great shopping trip and buy some beautiful piecess to make me merrier; it is the time I exercise to make myself healthier and stronger.
The happiness of achieving a personal goal:
It is a time that I write a new blog and have further self-reflection; it is a time I beat the challenge and graduate from the course I selected; or it is a time when I see my bank account and my savings are increasing as planned; it is a time when I achieve my goal at work; it is the time I lose 2 pounds according to my fitness schedule; it is a time when I receive a new certificate.
The happiness of friendship:
It is a time when I help a stranger and I receive a card of appreciation; it's a girls time out when I have some afternoon tea with my girlfriends; it is a time when I see long-time no-see friends; it is a time to have friends gathering, and we have excellent food, the kids enjoy themselves and the adults have great conversation; it's a time to say "thank you" to my friends for their help or time to help my friends.
The above several paragraphs is my list of happiness. I just realized that there are so many things can make me happy.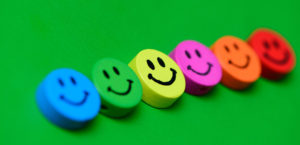 "The Pursuit of Happyness" movie is based on the real story of an entrepreneur Chris Gardner, who struggled with financial difficulty while raising his toddler son, Christopher Jr.
There were so many unfortunate things that happened to him such as losing his products which were supposed to be sold for him to make a living as a salesman. Because he was unable to pay the tickets, his car was taken by the police; his wife Linda left him and the son because she was too disappointed with his inability to make a living; he moved from time to time to cheaper accommodations as he couldn't afford the rent; he was arrested by the police and stayed at the police station overnight before his interview; his bank account only had 22 dollars. Then he became homeless; he had to stay in a man's toilet overnight with his son as his stuff was thrown out by the motel and he had nowhere to stay;
After lots of efforts, he was admitted as an intern at a brokerage company which he had dreamed of. But unluckily, he was told that during the six months internship, there was no pay. But he survived the six months and worked very diligently to reach the sales goal.
During the movie, at different times, I thought what is happiness? It could be a complete family who supports and loves each other; or it can be a stable income so that Chris can pay all his bills and raise his son; it can be a steady place where Chris and Christopher can stay after they are back from the day and where there's a bed to sleep; it can be the day when Chris sold a machine and received a $250 check;
In the movie, happiness was a stable living with a complete family ;happiness meant to them that there were no unpaid bills; at the end of the movie, when Chris was told that he finally became the only person who succeeded in the internship so he could stay and work in his dream company. The dream of happiness came true. After Chris had the nice job with a good salary, they could have a stable living and a better quality of life
Let's pause for a while and think about your definition of happiness. What makes you happy, satisfied, joyful, proud and fulfilled? Is it the status of your current life or the achievement of your personal goal? Is it your child's progress in what he/she is learning? Is it a peaceful mind and a harmony in the family? Or is it the family's financial environment such as making more money and having a more significant house?
Everyone has his or her definition of happiness; I hope we all continue to have lots of things to be joyful about and we can keep pursuing the unrealized dreams which will make us satisfied.