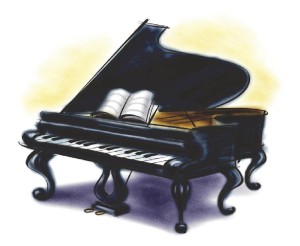 John's Series 13 – Stick with it Son!
Parents may all have heard about that piano practicing helps develop a kid's left and right brain significantly. As a result, piano learning and practicing boost kids' IQs, improve their focus and attention, help to refine their academic skills as well as improve self confidence.
Lots of couples take parenting lessons or learn by themselves. Some women receive prenatal education when they are pregnant around 4-5 months .It is said that music training for the fetus is helpful to start giving a musical influence to the baby even before it are born. I am one of the mothers who started to listen to Mozart or Beethoven when John was a fetus. Although I could not appreciate the music well, I strongly believed it would be helpful for John to listen to music when he was a fetus.
Not surprisingly, lots of Chinese parents hope their kids can learn to play piano, starting at a young age. Once after they started moving on this path, probably every parent understands how hard it is to motivate children to play and practice every day. In fact, most of the time, piano learning and practicing are more of a parent's goal instead of the child's in the beginning. Very few young kids are self-motivated to practice piano. In most cases, playing with friends and having fun are their favorites.
When John was almost 18 months old, we came to Vancouver for a vacation and stayed for 2 weeks. I was surprised to see that one day after John woke up, he played the Mozart disc by himself and listened to it for almost 20 minutes without moving a bit. I was thrilled to discover this. Since then I was determined to send John to music school as I felt the music training worked when I was pregnant. John has no music genes from the family. The only people who play musical instruments are my father, who plays a bit of violin and one of my cousins, who plays cymbalo. Neither my husband nor I have any musical background.
John started to learn piano since grade one when he was in China. In the beginning, it was not too hard to motivate him, as he only needed to practice 20 minutes every day. He usually sat on the bench and practiced for 10 minutes, then another 10 minutes after a short break.
After he came to Vancouver in the summer of 2013, one of our friends recommended us to an Italian Piano school; then we started to take piano lessons from an Italian teacher in 2014.[adToAppearHere]
The school often arranges student recitals almost every 2 months. One day, we were invited to one recital; I was surprised to see many talented and musical kids performing so well on the stage. From then, I started to have a goal to motivate John to learn and practice piano harder. John needed to play well so that he would be in the list of performers in the next recital. Another fact is that since John's new piano teacher is stricter than the previous teachers, I don't want John to feel bad for not meeting the teacher's expectations. However, the most important fact is my belief in piano learning; I think it will help John to develop his brain and become more focused and patient.
Since then, I started to ask John to practice 45-60 minutes every day, according to the piano teacher's request. John took a grade 3 piano test in China and he passed it. The piano teacher is not be satisfied by a "pass" result for his students. He expects his students to be on the top distinction list of piano examinees. After almost half a year learning with this new teacher, John needed to prepare for Grade 4 piano exam, followed by grade 5 to 10.
I realized that piano learning can become a long-term goal both for John and me. My husband usually does not mind much about John's piano lessons and scores; I am the one who insists on sending John to piano class.
Kids usually enjoy learning piano more than practicing piano. It seems a boring task for them to sit on the bench and practice for more than 20-30 minutes.
The normal conversation on piano will be like this; mostly it is me who brings up those requests to him:
"John, please start your piano practice now for 1 hour as your teacher requested."
"John, please sit on your bench and don't move when practicing piano."
"John, please don't take so many breaks during this piece. You can't take several breaks during one piece. You should at least play the whole piece; then you can take a break, unless you need to go to the washroom."
"John, you will get a sticker if you can practice well for an hour. Otherwise, you will get nothing."
"John, if you can practice well for the entire week. I will reward you by arranging a play date for you."
In the beginning, when he was taking the piano lessons, I needed to sit in the class and take notes for John so I could enforce the execution at home. Even now, for his piano practice, most of the time, I need to sit beside him or be around so that I can make sure he practices according to the teacher's requests.
Most of the time, John does not practice nicely by himself unless I request him to do so. I have had to think of lots of ways to motivate him. Along with his interest changes, I change the rewards once in a while. I used Smiley face stickers, play dates, sleep overs, iPad time, movies, eating out at his favorite restaurants, Pokémon cards, going to the park and small Legos after he behaved well for one week or two.
But sometimes he was still bored practicing piano, and he just simply said he would not practice for that day. Several times he said he wanted to quit because he had no playtime. I felt so alone because my husband didn't want to push John to do something he didn't like.[adToAppearHere]
During his practice, he would sometimes take lots of breaks and it seemed like he could not sit on his bench for more than 3 minutes. I would be angry with him during those moments.
I needed to cook dinner while keeping an eye on him practicing piano. I needed to run between the kitchen and his piano room back and forth to ensure he practiced well.
After almost 3.5 years learning, John has improved a lot and he has won several first places and second places from Vancouver's Musical Festivals. He just won a first place in Romantic 7 in Vancouver's Student performer Guild Festival last week. He has even been invited to perform at the Final Concert in December.
I am very glad about his results and definitely proud of his good performance. I feel it has to be the parents who believe in their children and encourage them to be good at something and stick with it. From my observation only a small percentage of children are able to set a goal and stick with it. Most of the time parents need to be the guidance.
From piano learning, I wanted to show my child that giving up is not something that should be a habit in his life.