After reading Lean In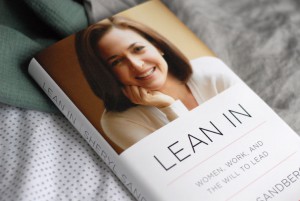 One day I happened to find a book "Lean In" from the library, I found that I was extremely inspired and enlightened by it.
The author is Sheryl Sandberg, who is now the COO of Facebook. Before joining in Facebook, she was the Vice President of Google. Undoubtedly, she is a very charming and brilliant successful lady, who has been working with the world's top 2 social media companies. She is admired by lots of professional women for her success.
Sandberg has a very successful career plus a perfect family –a nice and successful husband and two lovely children. In addition, she is very healthy and energetic even under the fast paced and high pressure work environment. She also has full support from her family. She's very lucky to have all of those elements together.
I found myself echoed a lot with her stories and I totally agreed with her on lots of opinions. I am listing here some points, which I have found very meaningful .
Self-doubt
In the book, Sandberg mentioned that lots of women have self-doubt. She said, "I should have understood that this kind of self-doubt was more common for females".
This is also very true of me. Although I have made lots of decisions by myself in my work and life, I would doubt if I had made a right decision or not thereafter. In my career's early years as a Sales Assistant, I would feel more comfortable and confident after I had gotten feedbacks from my peers or supervisors before I made a proposal. I cared about what others thought about my idea in the first place. Although lots of the time I was told that I had made a good suggestion, I still could not feel very confident to speak it out.
Women and men are not equal
Sandberg also talked about the female and male's position in the society. Although nowadays women have more freedom than before, women and men are still treated with different expectations.
As an immigrant, I have lots of immigrant friends as well as native Canadians. Lots of women immigrated and became a homestay mother as they are expected to take care of the children and do housework. They take the responsibility to be a family driver, cooker, caregiver and housewife. They run between school ,grocery store and home everyday. Their "work" usually starts from 7:00am or earlier and finishes around 9:00pm until their child falls to sleep. Lots of mothers believe that a full time mother and a housewife is much busier than a full time employee, which is quite true.  Lots of time, work can be scheduled and arranged, but children are hard to be managed after school, they are too creative to be arranged or scheduled.
So stay-at-home mothers are regarded as a normal phenomenon to the society, but stay-at-home fathers are regarded as not that usual. The social standard is that a woman can quit work and stay at home to take care of their children –which is their proper choice – but a man cannot. In retrospect, if a woman pursues her career and lets the husband take care of  their child , she will be  labeled as breaking the social harmony and could even be regarded as "cruel" or "not doing the right thing" for not taking care of her children and family.
On the other hand, I have seem lots of excellent ladies stay single after 30's. They have big jobs , nice educational background, excellent taste and they look good. But being single over 30s makes them feel they had handled their personal life unsuccessfully because they are not "successfully" getting married. When dating men, they will be questioned why they are single in their 30's. But men could have a great excuse if they stay single after 30s –have spent too much time on their job .By labeling themselves as workaholics, they will even become more charming since it represents that they have mission and goal in their career. But if women declare that they have spent too much time working so they have missed dating guys ,they will be judged that they have put their priorities in the wrong order.
How to show confidence
Sandberg also shared a lot on career. How to be confident even in fact you are very nervous? Smile and keep smiling is one of the best ways to feel confident and show confidence to others. Besides confidence, people will find that a smiling face is also a very charming and pleasant one. Nobody likes cold face. One day I went to a bank and wanted to withdraw some money from my checking account. I felt extremely uncomfortable when I asked and repeated a question and the teller had no facial expression and did not answer. I felt that I was not welcomed or she was trying to ignore me.
Smiling is very influential. Smiling will make people around you feel pleasant. "Keep smiling" is what I have been told by my mentor again and again, I feel she is absolutely right since "keep smiling' will make me and people around me feel pleasant, confident and energetic. In fact, smiling benefits the smiling person because the act of smiling triggers a response in your brain so you feel better.